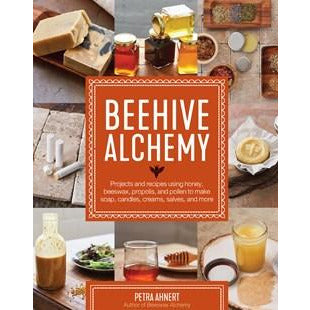 Book - BeeHive Alchemy
This book has been the best seller - especially for those looking to create non-toxic, home made items with their own bees wax.  Beautiful and some fabulous ideas too.
This is a comprehensive book showing you how to make your crayons to cough drops, cookies to candles, Beehive Alchemy offers a comprehensive entree to incorporating the miracle of bees into everyday life.own candles, soap, balms, salves and home decor from the hive plus heaps of more. 
The best one I have found on the market which shows very simple recipes Including Batic, waxed cotton wraps, scrubs, creams and even a section on the essential oils.  So many wonderful projects ahead can be found within this book.
With this new book, beekeepers (and bee lovers) will learn about the benefits and attributes of beeswax, honey, propolis and more as they're introduced to a full range of projects and techniques to process and harness the amazing gifts of bees
160 pages long
Written by Petra Ahnert
Format:  Gloss Paperpack
---
Share this Product
---
More from this collection