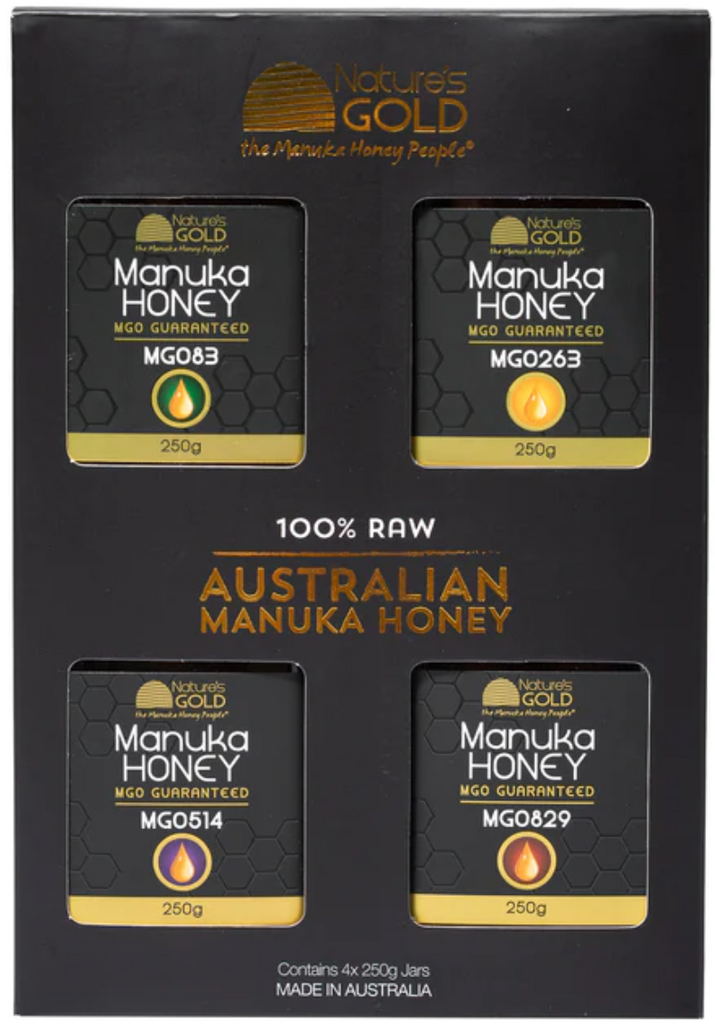 GIFT PACK - Australian Manuka Honey x MGO 83, 263, 514 and 829
This Manuka Honey cannot be shipped to Western Australia because of their quarantine laws. Please phone us on 1300 309 128 to discuss.
Australian Manuka Honey in a beautiful gift box. Makes a great gift and lets your friends and family try all strengths of this wonderful Australian Manuka Honey.
The pack contains Australian Manuka Honey in 4 different strengths in 250g size jars - from low to high strength.  
5+   -   MGO 83 10+  -  MGO 263  15+  -  MGO 514 20+  -  MGO 829
All the Manuka Honey you will ever need all in an exquisite gift pack.
FOR BULK ORDERS PLEASE CONTACT DIRECT hello@becsbeehive.com.au
HOW TO USE
5+   -   MGO 83 Take daily to boost immunity
10+  -  MGO 263  Medicinal strength during illness
15+  -  MGO 514 Infection fighting
20+  -  MGO 829 Hospital grade, natural antibiotic
INGREDIENTS
100% Australian Manuka Honey
NUTRITIONAL INFORMATION
Serving size 10g
______________________________________________________
               Avg per serve         Avg per 100g
Energy        141.6kj           1416kj
Protein         0g                   0g
Fat - Total    0g                   0g
-Saturated   0g                   0g
Carbohydrate 8.3g            83.1g
Sugars*       8.3g               83.1g
Sodium       1.5mg            15mg
*Naturally occurring sugars
---
Share this Product
---
More from this collection