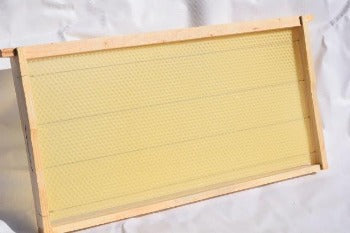 Frames Full Depth (DEEP SIZE) - assembled with wire & foundation - pack of 4 *see shipping disclaimer*
Full depth frames made by  NZ Pine & stainless steel wire with AUSTRALIAN PURE BEES WAX FOUNDATION - we refuse to compromise our Aussie wax with anything less - always ask is this AUSTRALIAN pure beeswax?
Deep size = full depth sizing in Australia
Note: Shipping of this item is at your own risk  We can ship but Becs BeeHive does not take any responsibility for any damanges during transit.  If you choose to have this shipped its at your own risk and no replacements will be offered due to damange.  by selection shipping you agree to this disclaimer
Wax is more brittle in winter and 99.9% of our waxed frames arrive safe & sound
Assembled with wire and Australian Pure Wax foundation embedded and ready to go.
4 per pack.
 ***************************************************************************************
Note:  IF YOU CHOOSE TO HAVE THIS ITEM POSTED we take every care in packing the item but cannot guarantee there will be no damage due to fragility of the wax.  We do not accept any liability if wax is damaged during transport and replacements will not be given- this is your choice & by choosing shipping you accept these terms & acknowledge the risk. Thank you  
---
Share this Product
---
More from this collection