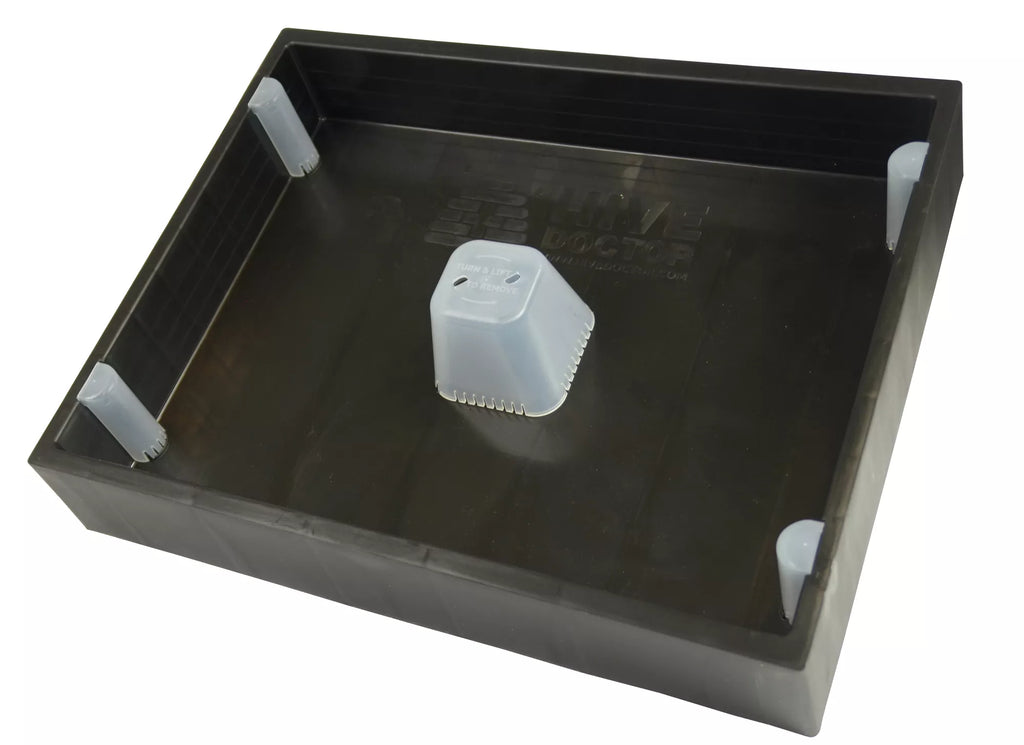 Feeder - Complete Top Feeder - 8 frame box size
The all in one Hive Doctor Top Feeder is excellent to feed your bees within the hive without disturbing the colony.  Simply lift the lid and pour in the syrup.  The bees will enter via up to feed via the central chimney or the corner holes and stay contained.
This fits on top of a standard 8 frame size wooden box 
Holds approx 9.5L of syrup.
You must make sure that the migratory lid covers the entire feeder.  We recommend you having an inner cover to ensure that the bees cannot enter the feeder from the top therefore all seals must be secured with the lid on top.
Handy to feed heavily when your backyard bees need food to sustain themselves.  Make sure you use the right syrup depending on the time of year. 
If you are wanting more advice then visit our BeeSmart beekeeping education portal to learn heaps about these amazing little creatures.


Top feeders are great for feeding your bees dry white sugar.  Feeding in this way, don't use a "chimney cap" and let the bees range across the feeder.  If using dry white sugar you may want to add a small damp sponge to the top feeder to give the bees some moisture to work the sugar.

SUGAR SYRUP: When feeding in this way, use a chimney cap to restrict the bees and prevent them from getting out in the bulk of the liquid.  This will minimise drowning.  If you don't have a chimney cap, you can fill the feeder with pebbles, or twigs, or some people use lots of polystyrene which will float and give the bees a place to sit above the syrup.
It is recommended to keep the cap provided with the feeder for this purpose.
---
Share this Product
---
More from this collection