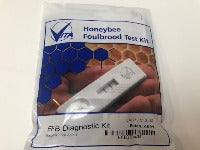 EFB (European Foulbrood) Test Kit
Do you have a suspicious looking brood cell and you want to know if it is diseased.
Then this kit is a quick & easy way to check if its infected with the European Foulbrood disease (EFB).
Its a good idea to have the other AFB test kit on hand too and it can be purchased at with us also.  
All instructions are on the kit & its works like a pregnancy test...
Remember its only as accurate as the cell you choose so choose wisely.  Its a one off test.
---
Share this Product
---
More from this collection