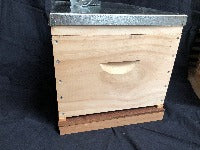 BeeHive Single kit - Raw rebated timber, includes made wired frames with 100% Aussie Foundation
Here you can purchase a completely assembled single beehive in one transaction.
Ready for you to paint in the colours of your choice.
Excellent for a spare hive to have around just in case you get that swarm!  Or why not use it as a bait hive...  yes, we are resourceful!   Yes I can freight it out to you and see note below for interstate or remote locations - particularly NT, TAS & WA.
This assembled Kit contains:
1x Full depth (deep) brood box 

1x Lid including tin top -  includes vents

1x base including cleats & risers to specification

8 x full depth frames - made with wire & wax foundation embedded, eyelets

1 x emlock metal hive strap

Comes fully assembled    

No Bees!

Needs to be painted
Note: Shipping of this item is at your own risk.
We can ship but Becs BeeHive Beekeeping Supplis does not take any responsibility for any damages during transit.  If you choose to have this shipped its at your own risk and no replacements will be offered due to damage.  By selection of shipping you agree to this disclaimer.
Note: Cold weather makes the wax extra brittle.
Country & remote locations may incur an additional cost for freight and we will be in touch if required. 
---
Share this Product
---
More from this collection